Ask these interview questions for an Intriguing podcast
Six types of interview questions you can ask your guests to make your podcast interesting and intriguing.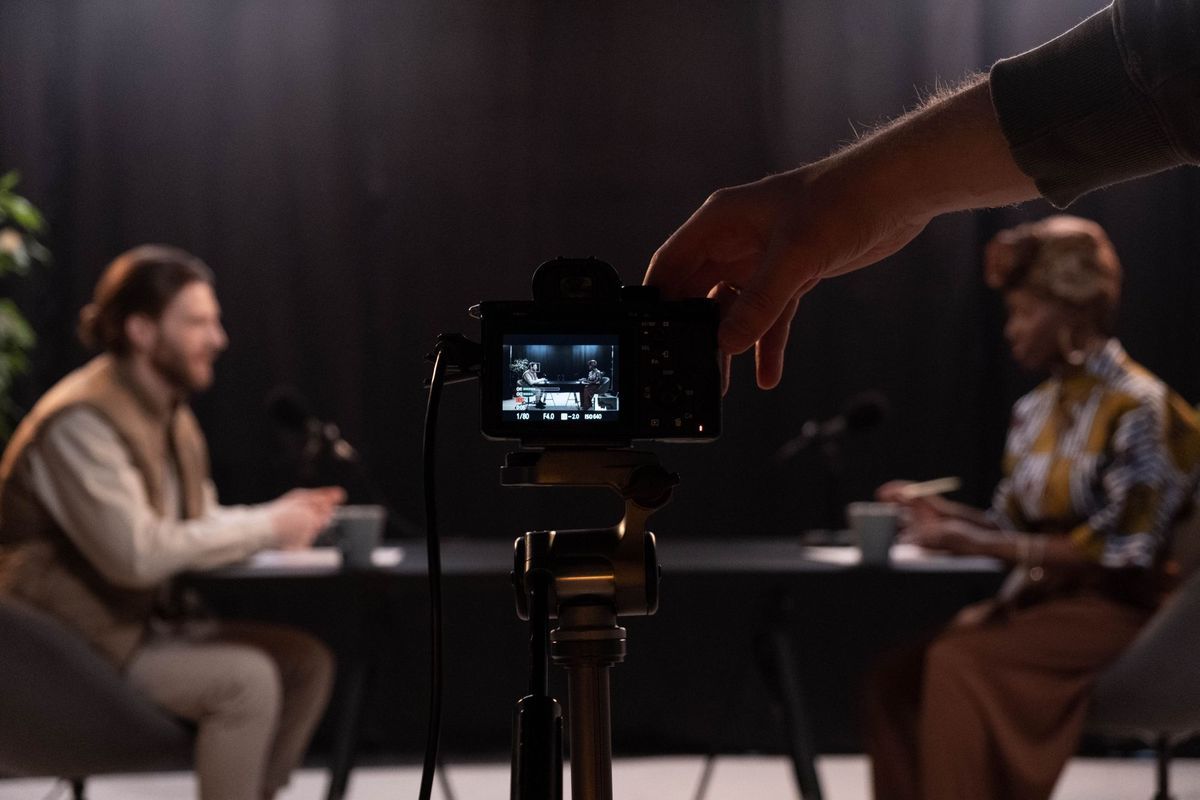 Podcasts are the hidden leverage for our generation. They come in all varieties and formats, ranging from those that dive into deep waters of niches topics to conversational podcasts that are best consumed on the go. With the ability to
start a podcast at literally zero cost
everyone wants to grab a piece of the pie.
So, how can you make the podcast interesting and engaging for the audience? More importantly, how can you make the conversation flow organically while being fun and impactful?
Most podcasts on the web are informative, helping
brands build loyalty
and reach target audiences. It is crucial to package information with intriguing content and personal anecdotes. Having an arsenal of questions ready at hand is essential to save a choking conversation and keep the dialogue fascinating and lively.
There are different kinds of questions that serve specific scenarios. Before launching forth, let's first discuss the checklist for drafting intriguing questions.
Do your research
It is necessary to research the podcast topic and the guest to distill information that leads to interesting questions and insights. Google searches and social media are helpful tools to gather anyone's internet footprints. The more thorough your research, the better you will be at steering the conversation to engaging bits.
Define your agenda
Your podcast serves a
target audience
that has certain expectations from your content.
Give your listeners the experience
that they want. Your podcast type will shape the kind of questions that will gel well with the consumers. Have an agenda prepared with the pivotal points, and then design the questions around it.
Leverage natural segues
Conversations, like any skill, take considerable practice and experience. One must hone the skill to recognize organic segues and veer the conversation into informative bits. As a host, the ability to step around the fluff and spot meaty ideas is essential.
While you can always guide the dialogue away from the banal talk, you must remember not to suffocate the guest with suggestions. Provide ample space for your guest to take charge of the conversation.
Connect to the human behind the accolades
Many novice podcasters fall into the trap of asking superficial questions directed not to the guest but to his stature. You connect with your guest by building rapport and sharing personal details of their journey. This is where it pays off to be prepared with comprehensive research.
Avoid the common and the cliched
You are doing your audience a disservice by pulling questions from the cliche trove. Stereotypical questions are the death of the conversation. You should aim to draw novel insights unique to your guests, that will be valuable to your listeners. Do not hesitate to throw in a few oddballs.
Here are a few questions compiled as a reference for specific times during the podcast:
Conversations starters
Take us back to your childhood. How was it while growing up?
What project are you presently working on?
Which topics have you been researching lately?
Can you talk about the effects your parents had on you?
Were you a reserved child or an outgoing one?
Domain-specific questions
What books and podcasts would you recommend to the listeners?
What are the usual timelines for your projects?
What are your working hours like? How are you able to focus for so long?
How did you find and grow your strategic advantage?
What difficult decisions have you had to make in challenging times?
What are some overlooked networking tips?
What are your secrets for consistency?
Personal and Anecdotal questions
What is your morning routine like?
What do you do to unwind and de-stress?
How did you get interested in what you do?
What mental practices have you developed over the years?
How did you cope when your company went through a rough phase?
Quirky and offbeat
What would you have chosen if you were not in your current profession?
Whom do you call for guidance and clarity?
Do you have a journal or mediation routine?
What habits have you been trying to inculcate in the past year?
Do you have any regrets about your journey so far?
Motif and Trademark question
What is your best investment under 100 dollars?
How do you keep reinventing yourself with time?
Are there any historical figures or personalities whose teaching you idolize?
What are your negative traits and patterns?
Do you ever fear losing all that you have built so far?
Closing thoughts and questions
What are your plans for the next year?
Any closing remarks or advice to our audience?
What is your one guilty pleasure?
What is that quote or principle you strive to live by?
Do you have any niche recommendations around movies, documentaries, articles, or courses?
What are things you are grateful for?
The right questions hold the key to the conversation. But the lesson is that there isn't one question that's always right. It's your intuitive judgment that gets better with practice. Each new question holds the potential to swerve a conversation into unknown territory.
The many responsibilities of podcasting
can be stressful. Don't get distracted by these. Instead, focus on recording a fantastic conversation first. A good product sells itself.  Listnr offers an end-to-end podcasting solution that integrates recording, editing, distributing, etc., in a single place.
FAQs:
How do I record a podcast on my iPhone for an interview?
You can record podcasts with your iPhone camera and audio. You could also invest in an external pocket mic for better audio quality and add the audio to the iPhone video.
What is the best way to record an interview?
The ideal way to record is at a quiet place with a dedicated camera and microphone. Alternatively, you could use services like
Listnr
to record, edit, distribute and monetize your interview podcasts in one single place.
How do you record a virtual interview?
Virtual interviews can be recorded over video conference tools with multiple guests. With virtual recordings, one can ensure good audio by using external microphones and merging the audio tracks in editing.
How to record a podcast with multiple people?
Recording multiple guests is easier online than in person due to the logistics and equipment.
Listnr
provides an easy-to-navigate interface for recording multiple guests. Just invite your guests and begin recording. Moreover, you also have the feature to download individual tracks for each guest.
References: